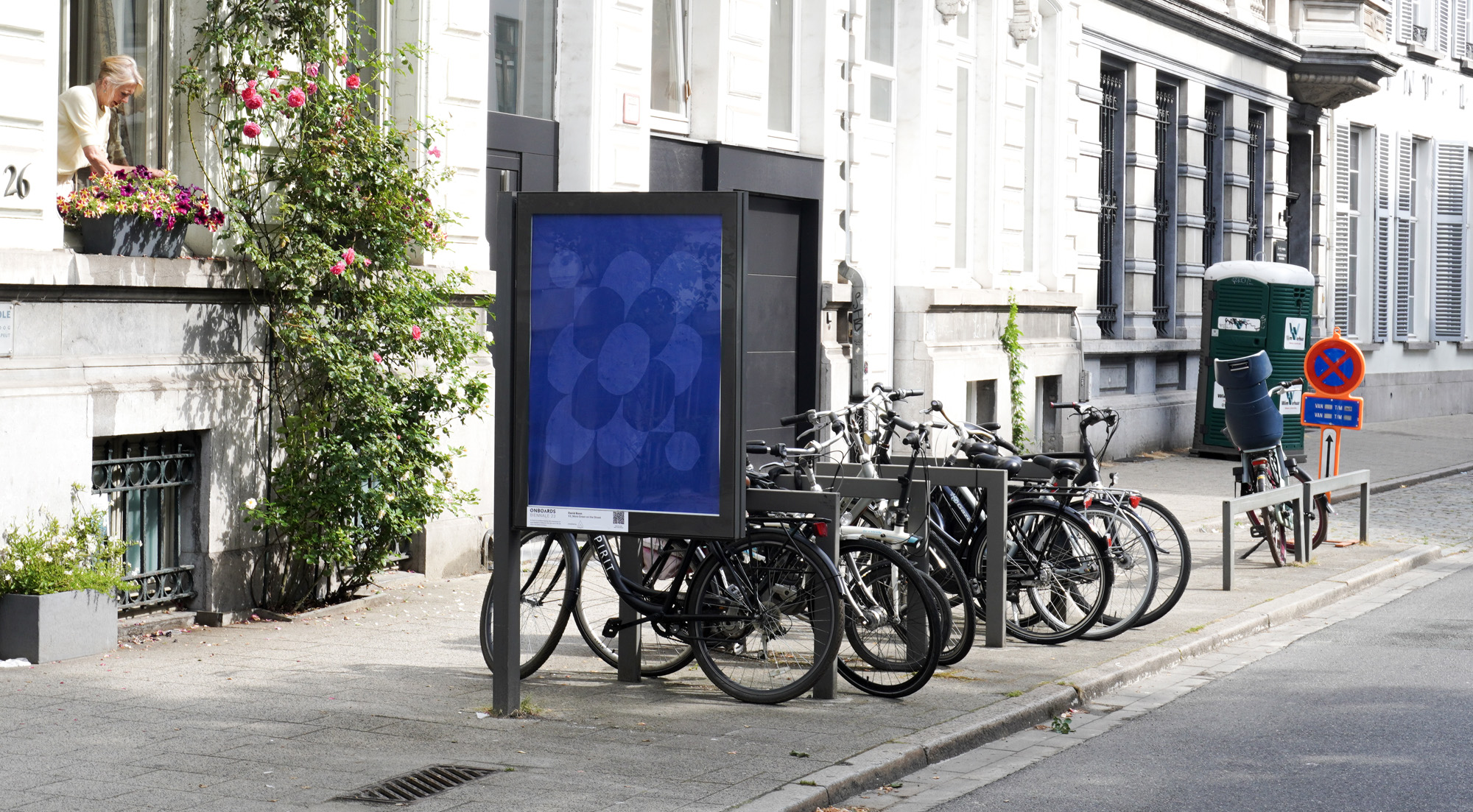 12.06.23 - 10.07.23
IN TOUCH: an exhibition featuring 100 contemporary artworks displayed on billboards throughout the streets of Antwerp. My work: V3_MoreGreenOnTheStreet
18.05.23 - 21.05.23
Borgerhub - Turnhoutsebaan 92, 2140 Antwerpen
LISTEN TO THE SHAPE
THE SHAPE MUST LISTEN
SOLO
BASE-ALPHA GALLERY
21.01.23 - 25.02.23
photo: We Document Art
ART ANTWERP
BASE-ALPHA GALLERY
Antwerp Expo
Booth C.24
15.12.22 - 18.12-22
Base-Alpha Gallery :: David Boon - Soetkin Verslype - Veronika Pot - Lieven Segers
5.11.22 - 18u / 21u
Terlinckstraat 30 - 2600 Berchem
15 YEARS
BASE-ALPHA GALLERY

an archival exhibition
15.09 - 29.10.22
Time Flies When You're Having Fun: David boon, Geoffrey de Beer, Yorgos Maraziotis, Nadia Naveau, Veronika Pot, Denie Put, Lieven Segers, Soetkin Verslype, Katleen Vinck, Suse Weber.
BOECHOUT10
KUNSTROUTE
21.05 - 22.05.22

David Boon, Bram Kinsbergen, Schellekens, Karen Oger, Carmen Van Geffen, Orphee Titus, BartholomeusDC, Tom Schoonooghe, Bernard Claerhout, Liesbet Peremans
EXPO Seel it
FABRIK
Mechelen
22.04 - 08.05.2022

David Boon, Lien Buysens, Emma Loosbergh, Simon Van Wambeke
FABRIK, Rik Woutersstraat 36a Mechelen
Jan. '22
23.10.21

1 evening, 3 hours, 4 artists
David Boon, Antoine Duchenet, Erik Haemers, Pauline Rima
22.10.21 - 14.11.21

Groupshow: David Boon . Janne Claes . Nora De Decker . Inge Decuypere . Alain Delvoye . Ruben Deriemaeker . Rebecca Dufoort . Lieven Lefere . Jielt Gregoire . Dirk Hofman . Alex Kindt . Onbetaalbaar . Tim Onderbeke . Wim Nival . Frederik Tanghe . Ine Verhaege


28.06.21 - 25.07.21

An Exhibition of 200 artworks on 200 billboards in the streets of Antwerp

18.03.21 - 01.05.2021

Groupshow SCADS - Base-Alpa Gallery
David Boon, Aimé Fierens, Charlot Van Geert, Stijn Van Hoof, Soetkin Verslype
14.12.20 - 16.01.21

Groupshow BLANCO - Zeit Art Space
Sergio Asti, David Boon, Filip Cleynen, Filip Collin, Gilbert Decock, Jo Delahaut, Henri Gabriel, Herbert Hamak, Erik Haemers, Jan Henderikse, Nick Hullegie, Paul Ibou, Jef Meyer, Tom Mosley, Walter Ponsaert, Ann Rikkers, Gilbert Swimberghe, Guy Vandenbranden, Paul Van Hoeydonck & Mark Verstockt (foto: Luc Franken)
EXPO VIER
Keen Gallery
Antwerp
18.09 - 04.10 2020

Groupshow EXPO VIER - KEEN Gallery
David Boon - Johan Van Oeckel - Annelies Vanoost - Pieter Bauters. (foto: Bart Kiggen)

EXPO

COUPEE
Gent


20.06.20 - 30.08.20
Groupshow COUPEE
In collaboration with Coupee Collage Collective, a platform for contemporary collage art.


Bram Antheunis, Pieter Bauters, David Boon, Brunhilde Borms, Isabelle Cordemans, David Delruelle, Stephanie Herremans, Sander Jacobs, Nicolas van Parys, Jelle Van den Heede, Thijs Van der Linden, Marie Verboven, Eva Vermeiren, Jesse Willems
EXPO

BCC#1
Verb
Foundation
28.04.19 - 03.11.19

BCC#1 Belgian Contemporary Collages by coupee collective at
Verbeke Foundation